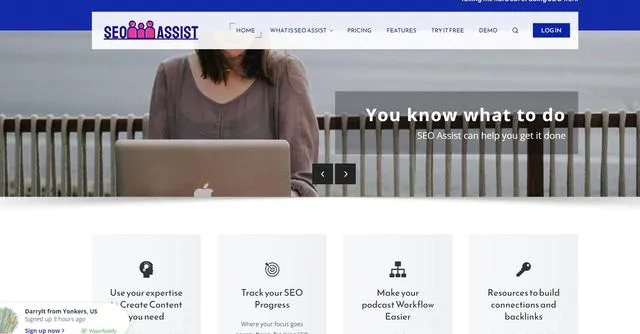 Paid plans start from $49/mo.
Create unique and personalized SEO content effortlessly with SEO Assist
SEO Assist Features
SEO Assist is a platform designed to help users create SEO-friendly content, track their progress, and build connections. Key features and use cases include:
Create Content: Easily generate good SEO-friendly content without starting from scratch.

Track SEO Progress: Document your stats and see progress month over month.

Podcast Workflow: Use the proven show notes formula to create show notes that enhance your show and look good to search engines.

Resources for Connections and Backlinks: Access an extensive directory of podcasters looking to connect, and pitch letters and resources to make reaching out easier.
How it works:
Visit the Content Library and select the type of content you'd like to create.

Answer the questions and prompts in the guided content flow and hit submit.

Receive generated content in your inbox, ready to copy and paste onto your site, email, or desired location.
USE CASES:
Create SEO-friendly content easily without starting from scratch

Track SEO progress and see month-over-month improvements

Access an extensive directory of podcasters for connections and backlinks