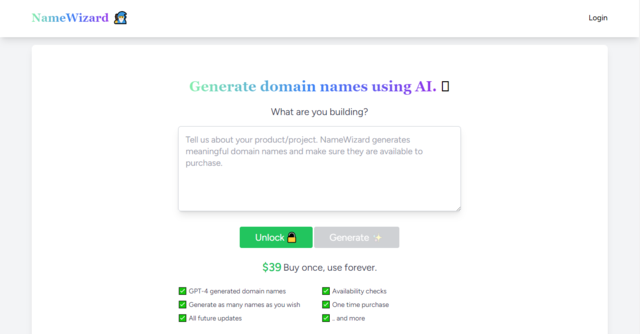 Paid plans starts from $19
Instantly generate memorable domain names using AI and ensure availability for purchase.
NameWizard Features
NameWizard is a powerful tool that leverages AI technology to generate memorable domain names instantly.
Key Features:
Instant Domain Name Generation: Generate unique and memorable domain names instantly with the power of AI.

Keyword Analysis: Analyze keywords and relevance to generate domain name suggestions that align with user preferences.

Availability Check: Ensure that the generated domain names are available for immediate purchase.
Use Cases:
• Entrepreneurs and business owners looking to establish an online presence can utilize NameWizard to generate captivating domain names for their websites or online ventures.
• Bloggers and content creators can find suitable domain names that reflect their niche and enhance their brand identity.
• Startups and small businesses can benefit from NameWizard by quickly discovering available domain names that align with their brand and marketing strategies.
With NameWizard, users can confidently generate memorable domain names for their online presence.