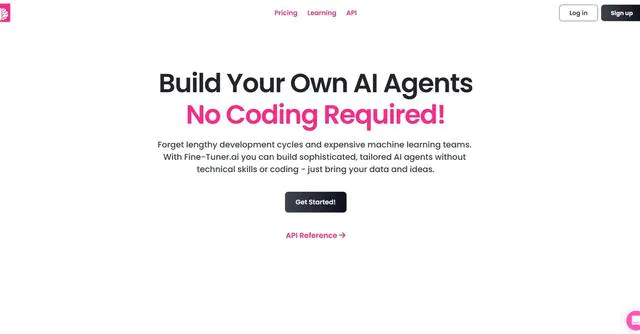 Paid plans start from $25/mo
Build customized AI agents without coding using Fine Tuner AI
Fine Tuner AI Features
Fine-Tuner.ai enables you to create sophisticated, tailored AI agents without the need for technical skills, coding expertise, or expensive machine learning teams.
Key Features:
Pre-built AI agents: Access specialized AI agents for numerous use cases and customize them to suit your needs.

Easy data integration: Instantly upload data from various formats like PDFs, CSVs, PPTs, URLs, and APIs.

Active Memory Storage: Utilize unlimited training data vectors in your dedicated Pinecone environment for complete control over your agent's learning process.

Seamless connectivity: Connect your AI agent to any data source, model, or third-party service using the simple API and plugins.
Use Cases:
• Enhance customer service with AI agents that provide instant answers and document search capabilities.
• Streamline business processes with automation powered by AI agents.
• Create custom AI-powered tools for niche applications in your industry.
Fine-Tuner.ai offers a user-friendly way to build AI agents that cater to your specific needs, simplifying the development process and allowing you to create sophisticated automations and workflows without any coding experience.