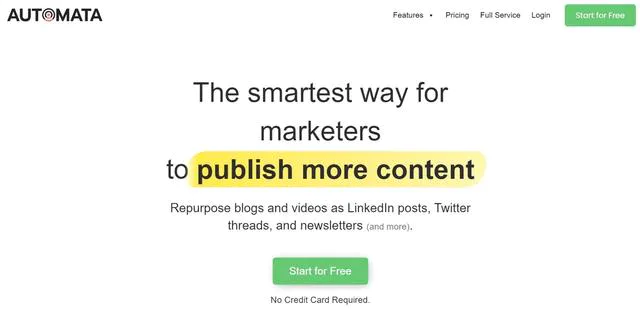 Paid plans start from $39/mo.
AI-powered Content Repurposing
Automata Features
Automata is an AI-powered content repurposing tool designed to help marketers maximize their existing content. Key features and advantages include:
Content conversion: Quickly convert marketing assets into various content forms for distribution across multiple channels

Chrome Extension: Repurpose content as LinkedIn posts without leaving the page

Content repurposing templates: Transform content into LinkedIn posts, Twitter threads, summaries, Q&A sections, and newsletters in a single workflow

Extract key points: Pull essential information from PDFs and videos to create more engaging content
Use cases for Automata cater to various marketing needs:
Marketers seeking to repurpose and optimize their existing content for increased reach

Content creators looking to streamline the content creation process across multiple platforms

Social media managers aiming to efficiently distribute content on various channels
Overall, Automata offers a comprehensive solution for marketers to harness the power of AI and make the most of their content.
This tool is verified because it is either an established company, has good social media presence or a distinctive use case